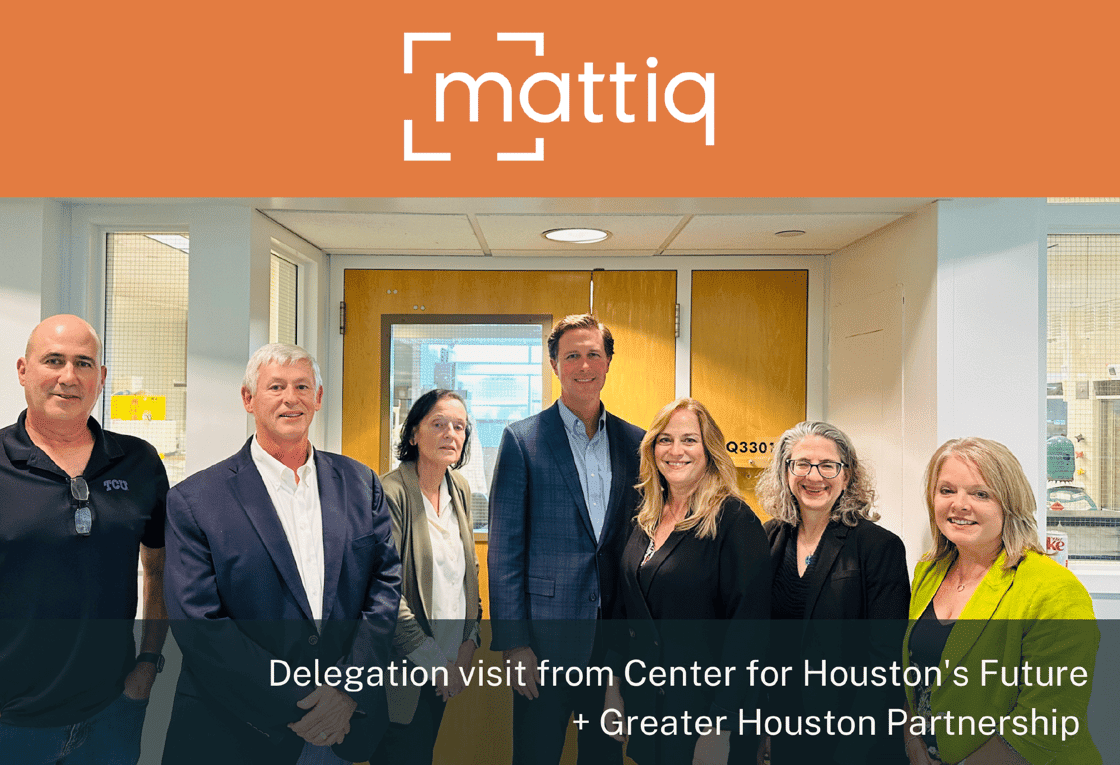 Unprecedented regulatory momentum toward industrial decarbonization is unleashing widespread interest in deep climate tech, including Mattiq's offerings. As a result, our partnership ecosystem is growing.
Recently, the Greater Houston Partnership and the Center for Houston's Future — among the teams behind Houston's HyVelocity Clean Hydrogen Hub — toured Mattiq's facilities. HyVelocity is one of several projects in the running for $8 billion in hydrogen hub funding from the US Department of Energy. Hub announcements are expected this fall, and soon after, the US Treasury will release clean hydrogen tax credits guidance, determining the flow of more than $100 billion in federal subsidies.
Of particular interest to the Greater Houston Partnership was Mattiq's work on catalyst alternatives to iridium oxide, a rare and costly material critical to clean hydrogen production. Substitutes for pure iridium oxide would mean that clean hydrogen—produced through electrolysis and renewable energy rather than by fossil fuels—becomes scalable.
Against a backdrop of rising consumer demand for green products, investor pressure to meet net-zero mandates, tax credits and other incentives, Mattiq is working to decarbonize an array of chemicals using processes with benign operating conditions and lower costs of operation. Last week, Chemical Engineering Magazine offered a behind-the-scenes look at Mattiq's approach as it expands electrolysis technology well beyond clean hydrogen. Mattiq's other work includes the low-carbon production of bio-derived chemicals, nylon intermediates, and upgraded plastic waste.
Read the Chemical Engineering article here. To discuss how Mattiq's clean chemistry offerings can support your company, reach out to Mattiq's product lead, Dr. Michael Ashley.
Pictured: Delegation visit from Center for Huston's Future + Greater Houston Partnership